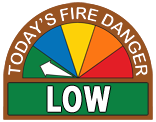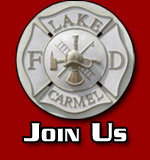 Previous Years
Fire
EMS
Total
2013
197
619
816
2014
206
693
899
2015
234
680
914
2016
205
721
926
2017
219
771
990
2018
255
753
1008
2019
192
836
1028
Web Counters
Website Visitors
Since
August 13, 2012

Visitors Today
Feb 04, 2023

Today the LCFD celebrated it's 75th anniversary
By Jess Ryan
September 12, 2020
Today the LCFD celebrated it's 75th anniversary! 
It's not exactly how we had planned to celebrate serving the Lake Carmel community since 1945 but we couldn't let it just pass us by.(We gathered for a quick picture and immediately returned to social distancing.)In addition to commemorating this event we wanted to recognize an outstanding member with over 40 years of service. Today Chief Donohue awarded Firefighter Ed Keck the rank of Honorary Chief.  He was given his white hat and 5 stripe jacket!
For those that are unaware, these are the traditional symbols that mark the rank of Chief in the fire service .Ed has been an exemplary member, an outstanding teacher and terrific role model for newer members. He is always one of the first to step up when help is needed no matter what time of day or night. During his tenure he has held the ranks of Lieutenant and Captain and been one of our most active drivers, always getting the apparatus where it needs to be and performing expertly at the pump panel. We at LCFD are both proud and lucky to have him. From the bottom of our hearts Ed, THANK YOU for all that you do. You are irreplaceable.
Bob Jackson
September 12, 2020 at 8:17 PM
Congratulations Ed and the rest of the family. Miss you all.
Lake Carmel Fire Department
September 13, 2020 at 5:01 PM